12 classic films.

12 nights only.
2019 filmmakers lab
call for submissions
ʻOhina seeks passionate, professional, and collaborative filmmakers in 2019.
ABOUT
The 'Ohina Filmmakers Lab is an annual screenwriting immersive designed to build a fellowship of talented, local filmmakers and give them the opportunity to learn from the best working screenwriters and filmmakers today. The goal of the 'Ohina team is to support and develop selected short scripts to help launch our fellows' careers.
HOW IT WORKS
Fellows accepted into the lab will participate in a three-day workshop. At the end of the lab, we will reward one (1) 'Ohina Greenlight Award. 'Ohina Films will fund and produce the 'Ohina Greenlight Award winning script which must be shot here in Hawai'i. The short will premiere at the 'Ohina Short Film Showcase program of the 2020 Hawai'i International Film Festival.
Past 'Ohina mentors have included Joe Robert Cole (co-screenwriter of Black Panther), Eric Pearson (co-screenwriter of Thor: Ragnarok), and Dana Ledoux-Miller (co-screenwriter, Narcos, Newsroom). Our 2017 Greenlight Award winner, Kālewa by Mitchel Viernes, won Best Sci-Fi Short at the 2018 New Renaissance Film Festival in Amsterdam. Our 2017 Judge's Award winner, Mauka to Makai by Alika Maikau, won Best Made in Hawai'i Short Film at the 2018 Hawai'i International Film Festival.
The Filmmakers Lab is looking for hard working screenwriters, directors, and filmmakers with open minds and a passion for learning in a supportive, constructive, critical, and cooperative environment. Applicants must either be based in Hawai'i or have roots in Hawai'i.
TO APPLY, SUBMIT THE FOLLOWING TO INFO@OHINA.ORG:
ONE short film screenplay or web series pilot. 12 PAGES MAXIMUM.


Resume or CV


1-page letter explaining why you'd like to be considered as an 'Ohina fellow.


ONE example of a previous short or script (if available)
JUDGING
The 'Ohina Executive team and notable film industry luminaries will judge. The top 15 scripts will be narrowed down to UP TO 10 TOTAL WINNING FELLOWS.
ACCEPTING APPLICATIONS FROM MARCH 27 to SEPTEMBER 1, 2019.
WINNERS NOTIFIED BY OCTOBER 1.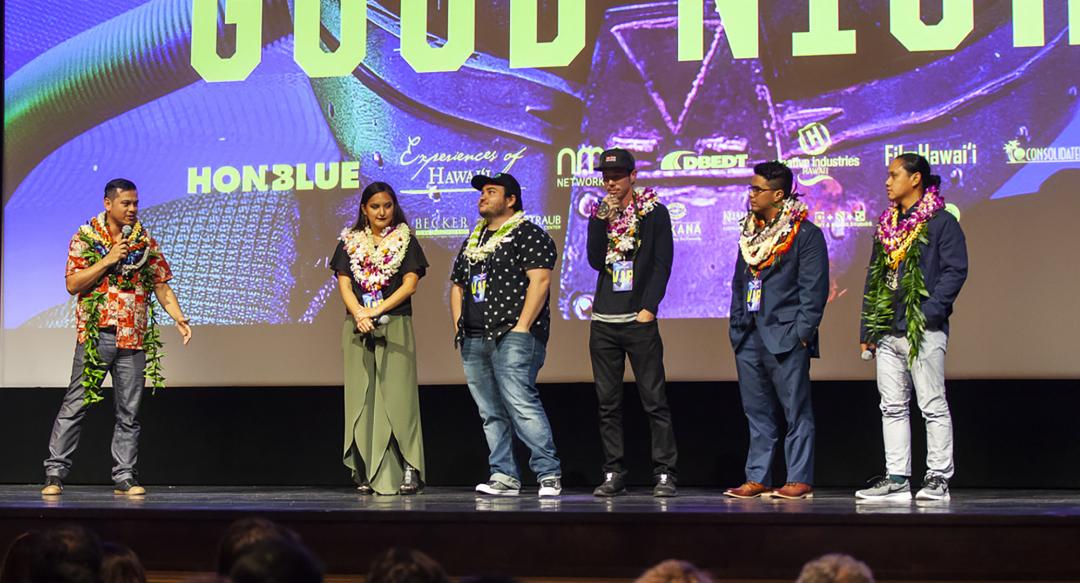 ʻOHINA
The ʻOhina Short Film Showcase debuted in 1999 to support local independent filmmakers and to give them an opportunity to exhibit their films to the community. Named with the Hawaiian term for "gathering" or "collecting," ʻOhina provides an annual exclusive venue for a collection of works by Hawaiʻi filmmakers to be gathered and presented to the community.
Since then, ʻOhina has grown to become Hawaiʻi's biggest short film festival for students, amateur and professional filmmakers. Although entries can come from around the world, there is only one requirement: a creative relationship to the Hawaiian Islands.
BIG NEWS
ʻOHINA BRINGS HOME TOP HONORS AND AWARDS BASICALLY EVERYWHERE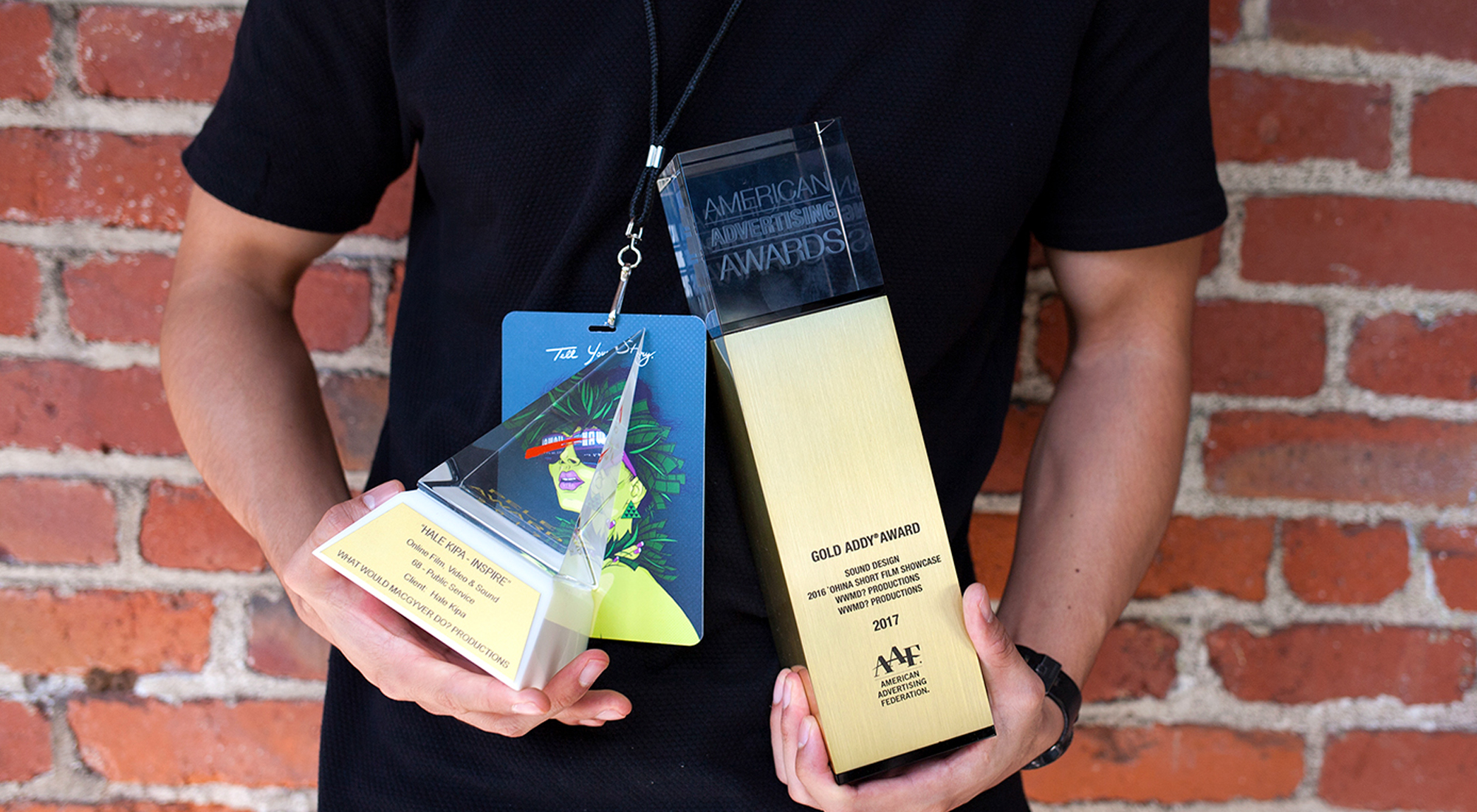 ʻOHINA LAUNCHES A FIRST-EVER WRITER'S LAB
The first ever ʻOhina Writer's Lab announces its inaugural award winners—Mitchel Viernes and Alika Maikau receive professional support and funding to bring their short films to life, and to be screened at the 2018 'Ohina Short Film Festival!
ʻOHINA SWEEPS THE NATIONAL ADDYS AND PELES
'OHINA brings home the GOLD for Sound Design at the 2017 American Advertising Federation's ADDY Awards for our 2017 showcase trailer, and BEST IN SHOW at the 2018 AAF Hawaiʻi District 13 "Pele" Awards! Honored to recognized with these prestigious distinctions.
HTA AWARDS ʻOHINA $25,000
The Hawaiʻi Tourism Authority awarded ʻOhina $25,000, recognizing the film festival as a Community Enrichment Program providing a "unique, authentic, and highly valued visitor experience" and which represents activities that are developed by Hawai'i's community, for Hawai'i's community.
ʻOHINA x HIFF
The ʻOhina Short Film Showcase and the Hawai'i International Film Festival are joining forces to strengthen local filmmakers and storytellers in 2018.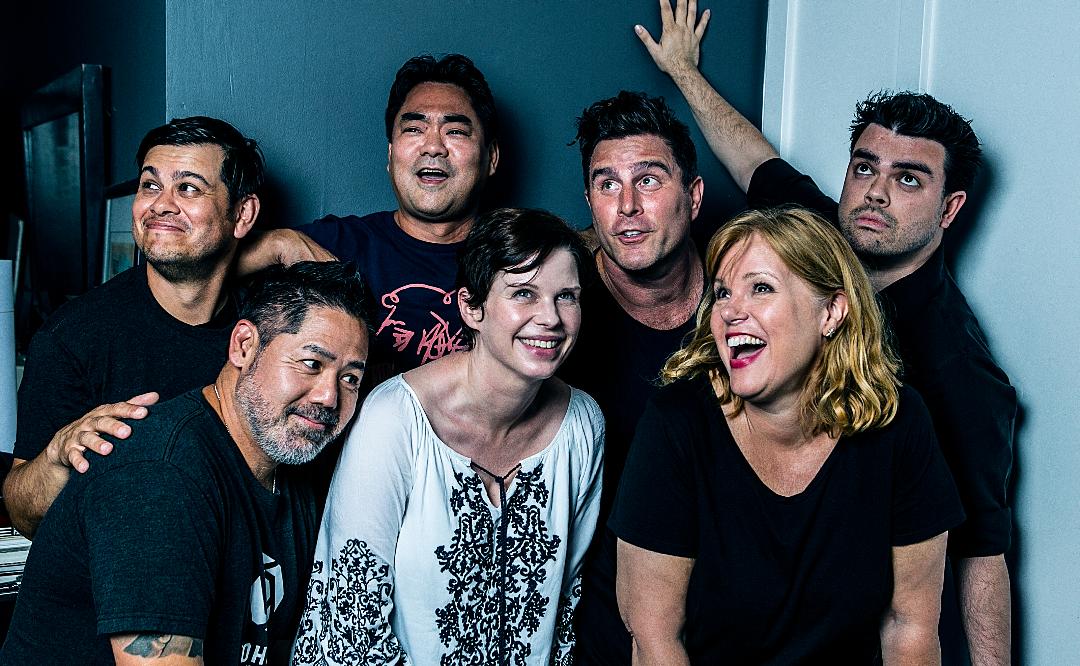 GERARD ELMORE
EXECUTIVE DIRECTOR
Gerard is an Emmy-nominated writer, editor, producer, and director who works with the NMG Network as a Lead Producer helping to build a new cloud-based broadcasting company producing and aggregating original content including shows, films, music, and events. He has over 15 years of experience creating nationally distributed independent films, and working as a commercial director on award-winning spots for clients including Hilton, Time Warner, and McDonald's. He is also a lecturer at UH's Academy for Creative Media.
Favorite Film:
Being There
ERIK RIES
CREATIVE DIRECTOR
Ries is an award-winning independent creative in entertainment advertising with over twenty years of experience. He currently supports the agency
B O N D in Hollywood, working on creative for studios such as Disney, MARVEL, Warner Bros., Lionsgate, Sony Entertainment, Netflix, A24, and many more. He is a psuedo-photographer, illustrator, mixed media artist, producer, and screenwriter.
Favorite Film:
The Adventures of Ford Fairlane
JAMES CHARISMA
EDITORIAL DIRECTOR
James is editor-in-chief of the award-winning Abstract Magazine, contributing editor for HONOLULU Magazine, and creative director of the design agency Charisma Industries. He is a contributing arts, culture, and entertainment writer for publications including Playboy, VICE, Complex, New York Magazine, Collider, Total Film, Paste, Hi-Fructose, Hyperallergic, FLOOD, Inverse, and the Los Angeles Times.
Favorite Film:
The Shawshank Redemption
DARRIN KANESHIRO
MANAGING DIRECTOR
Darrin is a freelance film producer and production expert, formerly executive producer at Shooters Film Production, involved in production at McHale Video Film, and McMahon & McMahon. He's a 20-year veteran of Hawai'i's film and television industries.
Favorite Film:
Se7en
BRIAN WATANABE
EDUCATION DIRECTOR
Brian is an award-winning copywriter and creative director of the media agency 26 Keys Creative, a screenwriting instructor at Pacific New Media Outreach College, and has developed scripts for production companies at Fox and Sony. His screenplay, The Rogues Gallery, became the cult film Operation: Endgame, starring Ellen Barkin, Maggie Q, and Zach Galifianakis.
Favorite Film:
Raiders of the Lost Ark
DONNA BLANCHARD
DEVELOPMENT DIRECTOR
Donna is the Managing Director of Kumu Kahua Theatre, Consulting Director of The ARTS at Marks Garage and host of Backstage with Donna Blanchard. She's an accomplished nonprofit and for-profit business development professional with more than 20 years experience in business rescue, management and alignment for strong stability and growth.
Favorite Film:
The Good, the Bad and the Ugly
SUSAN WRIGHT
PUBLIC RELATIONS DIRECTOR
Susan is a publicist with 20 years of experience specializing in the entertainment industry, has directed campaigns for the home media distribution group at Paramount Pictures and studio partners CBS, Comedy Central, DreamWorks Animation, MTV and PBS.
Favorite Film:
Casablanca
MITCHEL VIERNES
PRODUCTION SERVICES MANAGER
Mitchel is an independent filmmaker in Honolulu who won the inaugural 'Ohina Labs "Greenlight Award" in 2018 for his short film "Kālewa" produced by 'Ohina Films. A graduate of Moanalua High School, as well as the University of Waikato in Aotearoa (New Zealand), where he majored in film studies, Mitchel is a board member with the Hawai'i Filmmakers Collective and contributes his vast skill set to the local filmmaking community. He's been making movies since he first got his hands on a video camera at the age of 10.

Favorite Film:
Cinderella Man
JASON SUAPAIA
Jason is one of the original founders of the 'Ohina Short Film Showcase in 1999, and a 22-year veteran of the Hawai'i video production and advertising industries with experience in a variety of digital media content for local, national, and international markets. He is the VP of creative services for PBS Hawai'i.
MATT HEIM
Matt is the "Chief Operating Brother" of the HONBLUE print family of companies: Electric Pencil, JETGraphics, Zoombis, and Brue Bar. A lifelong entrepreneur, he is a strong supporter of Hawai'i's local design and business communities.
JASON CUTINELLA
Jason is the founder and CEO of the award-winning publishing company Nella Media Group. With more than 15 years of experience in media, marketing, and brand development including roles with McCann Erickson Worldwide and Sony Music International, Jason is a visionary who pushes the boundaries of innovation in today's media market.
MERICIA ELMORE
Mericia is the executive director of the SAG-AFTRA Hawai'i Local and a practicing attorney in the State of Hawai'i, with decades of experience in the entertainment industry, nonprofits, publishing, and advertising.
WANNA SPONSOR?
CLICK BELOW TO SUPPORT HAWAIʻI'S BIGGEST SHORT FILM FESTIVAL!
MUCHO MAHALOS TO OUR 2018 SPONSORS!